Myrtle Beach, SC is one of the top domestic tourist destinations in the continental United States. It is part of the Grand Strand with sixty miles of sandy white beaches along the beautiful, blue Atlantic Ocean. Snowbirds and winter visitors love the area.
With nearly 14 million visitors a year, it is no surprise that Myrtle Beach, with over 60 miles of warm, sandy beaches, is such a popular vacation choice for millions of Americans.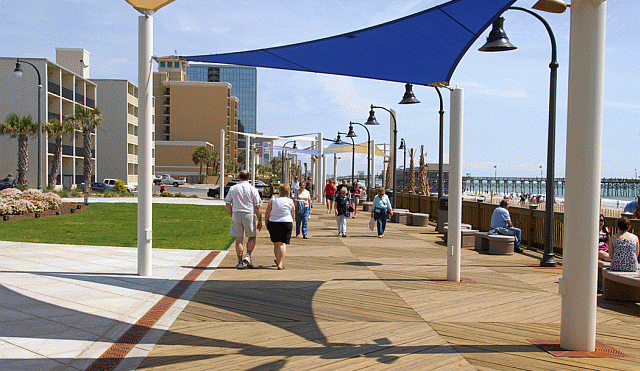 More than 200 sunny days and a temperate year-round climate, the Myrtle Beach area is a paradise for beach goers, offering endless hours of swimming, surfing, sailing, and other sun and sand favorites.
There is something about warm ocean breezes and the smell of salty air that makes evenings along the Grand Strand unforgettable. With over 1,650 full-service restaurants tempting the palates of visitors each year the choices are dizzying, but delicious! Every cuisine - from southern soul food to Greek, and from Japanese to Tex Mex - is well represented and put to the test by thousands of diners nightly.
The golf courses are open and anyone who plays golf is sure to come to Myrtle Beach. But did you know there are roughly 100 Myrtle Beach golf courses in the Grand Strand area? Some of the countries most beautiful and challenging courses are right here waiting for you.
There is so much more to do when in Myrtle Beach. Make sure to take in a show at one of our 11 live-entertainment theaters hosting big-name performers, country music concerts, and Broadway revues.
Ray Bay is home to stingrays and ray sharks. You can actually reach out and touch a stingray! With knowledgeable educators present, Ray Bay is both educational and exciting.
The Living Gallery showcases Nature's art with giant Pacific octopus, sea dragon, and unusual marine life from around the world, while Rainbow Rock features vivid and brightly colored tropical fish darting in and out of equally beautiful rainbow rock.
Discovery Center is another hands-on exhibit that "puts you in touch" with horseshoe crabs and invites you to expand your knowledge with high-tech interactive presentations. Ripley's Aquarium is another full day of fun.
If you're in the mood to just sit back and let the world come to you, then you've got to visit the IMAX® Discovery Theater. Located at Broadway at the Beach, the IMAX® Discovery Theater is a Myrtle Beach "must see." With movies that range from "Lost Worlds," to a specially enhanced presentation of "Beauty and the Beast" you will enjoy every minute.
Of course, the Atlantic Ocean is the number one attraction and the reason so many visit Myrtle Beach year after year. The clean, wide beaches are extremely inviting. an oasis of tranquility, relaxation, romantic getaways, and asnowbird warm haven for the winter weary. A glorious Myrtle Beach area vacation is all about.