Texas
Southern Texas is a major snowbirds and winter visitor destination. Mild winters, happy people, reasonable prices, and plenty to do with other winter Texans is the draw to this area. Each year from October through March, thousands of visitors from northern states spend time in Texas.
South Texas is a subtropical paradise, where the average annual shirt-sleeve temperature is 76° F with an average rainfall of 25 inches. People find that prices are reasonable, and eating in restaurants is very affordable.
The vast majority of winter Texan snowbirds drive down in RVs. RV parks range from small to enormous. Most of the larger ones have highly organized activities with crafts and dancing being main attractions. Yes, if you like square or line dancing, this is the place to kick up your heals.
Beaches extend for miles and miles of shoreline with palm trees and bright warming sunshine. Walk the beach and stick your toes in the water. If you are a birder, there is a wide variety of migratory birds to spot.
Winter Texans start out as visitors to the community, then become a part of it. They soon become very 'localized' by remaining in one area of the state during their stay in Texas, returning year after year.
The people are friendly! As you are driving down the highway, don't be surprised if people wave at you. Many snowbirds like the friendly country so much they retire to Texas. People have moved there from all over the country, you are welcome too!
FEATURED RESORT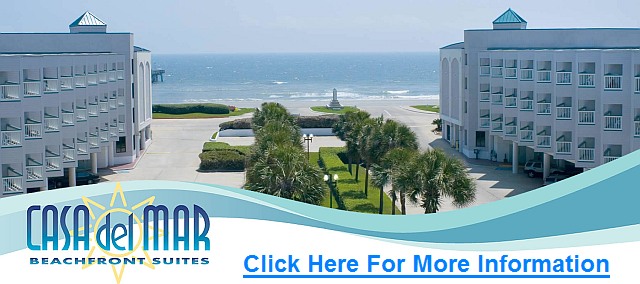 Voted Best Condo Rental on the Island!
Casa del Mar Beachfront Suites - always a super value; ideal for a family vacation or a weekend getaway for two. When you're looking for the ideal lodging choice, why stay in an ordinary hotel when you can have all the comforts of home in a beachfront suite ?

Brownsville - Snowbirds love the Brownsville area. Brownsville offers a tropical environment of stately palm trees, purple bougainvilleas, exotic birds, and cool, coast breezes. The charm of Southwestern lifestyles, a bicultural mystique, and a dynamic, bustling city at the extreme southern tip of Texas. More ...

Corpus Christi - Sun, sky, sea and sand best sum up this beachfront city of slightly more than a quarter of a million people. Often referred to as the Texas Riviera, It is a city with small-town feel. More ...

Galveston - There is so much to see and do in Galveston. It will keep most snowbirds busy for months. Galveston is a small romantic island tucked deep within the heart of south Texas possessing all the charm of a small southern town and just 40 minutes south of the fourth largest city in the United States. Galveston's temperate weather generally allows visitors to enjoy the beautiful outdoors year-round. More ...

Harlingen - Snowbirds flock to Harlingen, Texas which is located at the southern tip of Texas in the lower Rio Grande Valley. Each year, "Winter Texans" migrate to the Valley to escape the cold weather and enjoy the region's warm sub-tropical climate. Harlingen enjoys the position as one of the Valley's leading retail hubs. More ...

Marble Falls - The town of Marble Falls, Texas is located on Lake Marble Falls, is only 5 minutes from Lake LBJ, and is only about 45 miles from Austin. Many snowbirds have been stopping on their migration south and back, and in recent years it has become a popular destination for the season. More ...

McAllen - McAllen is a Snowbirds Warm Haven for the Winter-Weary. McAllen has been known for decades as a snowbird destination except that, in that neck of the woods, they are affectionately called Winter Texans! McAllen sits in the geographical center of the Rio Grande Valley which hosts almost 45 RV Parks. More ...

Port Aransas - Located in the Texas Coastal Bend with a semi-tropical climate and Gulf breezes, Port Aransas is the perfect snowbird destination. Port Aransas, Texas, is often referred to as the "Best Kept Secret on the Gulf Coast". This seaside village is a welcome escape from life's hectic pace. More ...

Rockport - Rockport, Texas is great for snowbirds, especially between Thanksgiving and Christmas when you should find glorious weather, excellent birding, and small crowds. On a lovely, sun-swept peninusula separating Copano and Aransas Bays, lies the picturesque little town of Rockport, Texas, affectionately referred to as the Texas Riviera. More ...

South Padre Island - Snowbirds and winter visitors love South Padre Island! Beautiful beaches, warm Gulf waters, fishing, boating, bird watching, shopping, and a diversity of year-round activities make South Padre Island one of the best snowbird destinations in the world. More ...

Zapata - The "Home of Falcon Lake," Zapata serves as your entry to this fabled reservoir for anglers and water sport enthusiasts. Zapata also has a variety of outdoor activities such as birding, golf and hunting. In winter Zapata attracts a lot of snowbirds, it is where the Sun spends the Winter. This is one of those places where the status symbol is not the car or truck you drive, it is which bass boat you own. More ...
Tell A Friend About Snowbirds Destinations