Snowbirds and winter visitors have been coming to Truth or Consequences for over 50 years, and still it is one of the American Southwest's best-kept secrets. It is located 149 miles south of Albuquerque and 118 miles north of El Paso, in New Mexico's southwest region. Truth or Consequences has remained unspoiled with breathtaking sandstone bluffs, nearby state parks and sunny, deep blue skies.
It was not always called Truth or Consequences. In 1950, NBC television and radio producer Ralph Edwards, on the 10th anniversary of the Truth or Consequences radio program, gathered his staff together and said, "I wish that some town in the United States liked and respected our show so much that it would like to change it's name to Truth or Consequences." After hearing the proposition, the former town name of Hot Springs, became Truth or Consequences.
Today it is a small resort town situated on the banks of the Rio Grande in southwest New Mexico with a year round population of just over 8,000. There is an abundance of hobbies and 57 organizations for community service waiting for members with open arms. It is a center of outdoor recreation with nearby largest and most popular lake in New Mexico, Elephant Butte Lake State Park.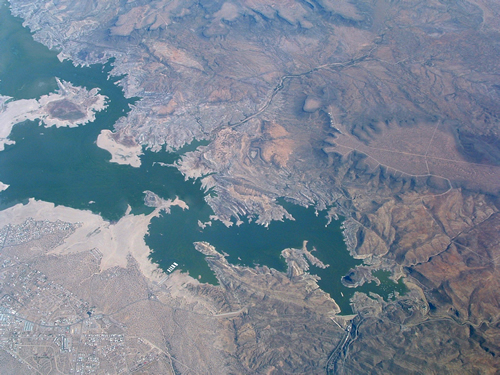 It provides a setting for every imaginable water sport, camping and RVing opportunities in a magnificent setting of deep blue water and dramatic mountain peaks. A fisherman's paradise known for record-breaking black, white, and striped bass, as well as crappie and bluegill, the park offers three marinas to serve boaters, miles of trails, sandy beaches, and magnificent views along its 43-mile length.
Cattle outnumber people about 2 to one, so there's little question that ranching and farming are important factors in the economy. Hot springs enthusiasts enjoy the hot mineral baths at bath houses in the area. Golfers are happy due to year round golf.
If you get hurt or sick, the 35-bed Sierra Vista Hospital has its CAT Scan in place and has opened a skilled nursing unit. Sierra Health Care Center, a nursing home, emphasizes rehabilitation
It is also the future Site of the New Mexico Spaceport. Tucked away between the Caballo Mountains and the White Sands Missile Range lie the humble beginnings, an ambitious bid to corner a big chunk of the early market in commercial spaceflight. Governor Bill Richardson has won a $100 million commitment from state lawmakers toward a $225 million partnership with Richard Branson's space venture, Virgin Galactic. For more things that go fast, developers are moving ahead with a huge Nascar racetrack.
Truth or Consequences, New Mexico is the snowbird and winter visitor hot spot. The sun shines more than 80 percent of the daylight hours. The winters are mild, as can be attested to by the many snowbirds that flock there every year.